Crawfish Enchiladas
03/10/2018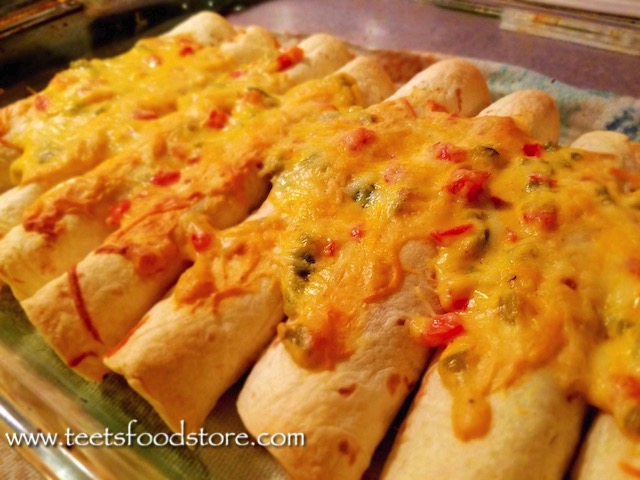 Recipe adapted from
https://fabulesslyfrugal.com/recipes/shrimp-enchil...
INGREDIENTS
CHEESE SAUCE:
1/2 red pepper, chopped
1/2 green pepper, chopped
2 tablespoons butter
1 1/2 tablespoons of Teet's All Purpose Seasoning
1/2 teaspoon oregano
1 tablespoon flour
1 cup whipping cream or milk
1 1/2 cup Mexican blend shredded cheese
1/2 cup sour cream
CRAWFISH MIXTURE:
INSTRUCTIONS
Preheat the oven to 350. Lightly coat a 9x13 dish with Pam cooking spray and set aside.
Melt 2 tablespoons of butter in a large pot and sauté the red pepper and green pepper until crisp-tender. Add the seasoning, oregano, and flour; blend well and cook, stirring constantly for about 1 minute. Whisk in the cream or milk and cook for 3 minutes or until slightly thickened. Add the cheese; stir until melted. Stir in the sour cream. Set aside.
In a large skillet, melt the butter. Sauté the onion until translucent and soft, 3-5 minutes. Add the crawfish, seasoning, and minced garlic and cook for 10 minutes, add 1/2 of the cheese sauce.
Spoon about 1/3 cup of the crawfish mixture into each tortilla. Roll up the enchiladas tightly. Arrange them seam-side-down in the 9x13 baking dish. Spoon remaining cheese sauce over the enchiladas and sprinkle with the remaining cheese.
Bake for 30-35 minutes. To brown the cheese on top, you can place under a broiler for a short time before serving.
Tags: [crawfish, enchiladas]